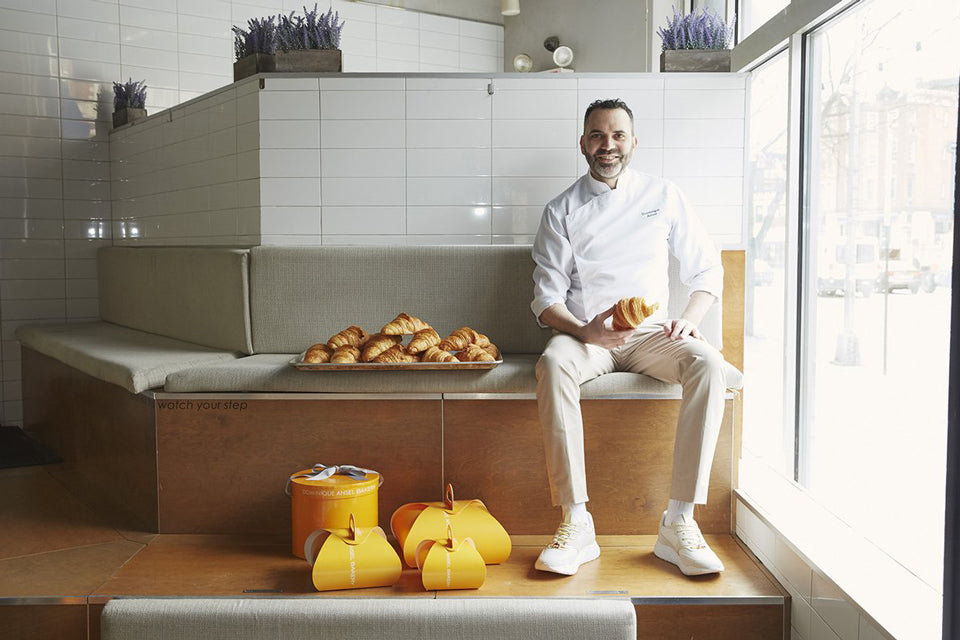 There's no name in the pastry world that has captivated global audiences like that of James Beard Award-winning Pastry Chef, Dominique Ansel. His prolific creativity and inventive approach to his craft is nothing short of inspiring, invigorating our minds and our palettes with the magic of possibility. Ansel's wild success can be highly attributed to his unique approach to his craft. Fusing science and art, he is a true inventor in the kitchen - from his trademarked Cronut ® (named one of TIME Magazine's "25 Best inventions of 2013"), The Cookie Shot, Frozen S'more, Blossoming Hot Chocolate and more, he is behind the most-buzzed about pastry creations of the past century. Already named the World's Best Pastry Chef in 2017 by the World's 50 Best Restaurants awards and a "Culinary Van Gogh" by Food & Wine, Ansel is now adding another title to his impressive pedigree - sneaker designer.
We sat down to chat with Ansel ahead of the release of his limited-edition sneaker to discuss his personal style, creative process and more. From his approach to risk-taking to his daily habits, favorite restaurants and the people he's most inspired by, here's an inside-look at the man behind the world's most magical pastries.
What first sparked your interest in cooking and baking? Tell us how you came to the decision to become a pastry chef.I came from a poor working class family and so the kitchen was one of the first places I went into in order to help support the family. I started in the savory kitchen, but quickly found more love in pastry. I liked that the pastries were both at the same time science and art. And I liked that with basic ingredients of flour, butter, and sugar, I could build an infinite number of items.
What's the biggest risk you've taken in your career?I came to New York with only two suitcases after a whole life in France and thought it was a big risk. But then years later, I spent everything I had on opening up a small bakery in Spring Street, and I thought that was an even bigger risk. And these days I realize that the bigger risks are always in the future, when there's more to lose.
Tell us about your creative process. How do you go about inventing a new pastry creation and where do you find your inspiration?It's always different, but one thing I don't like to do is look at what other pastry chefs are doing. I think it's important to clear your mind and look at other areas (besides pastry) for inspiration. Art and architecture, fashion, and technology are all sources of inspiration - looking at industries outside of food that aren't necessarily culinary-related and how they can apply to what we do. We once created a waffle computer for our U.P. tasting table in the West Village, where the menu was all about different American Dreams in history. This dish in particular was about the tech boom. So we thought, why not have an old-school Mac shoot out a hot waffle (in this case, it was root beer-flavored) when you insert a floppy disc, and serve it with tonka bean ice cream that resembled a pat of butter, drizzled with maple syrup on top. We incorporated childhood flavors meant to represent being a big kid in a grown-up world. Traveling also provides a lot of inspiration - discovering new ingredients, seeing the art and culture of a place, and learning about traditions new and old.
What are some of your daily habits that you feel contribute to your successYou have to pace yourself in this industry. Waking up early (my wake up time is at 5am) has really helped give me those moments of silence when you can really plan your day.
How would you describe your personal style?I'm one of those guys that have their favorite items and buy 3 of those same items. It's all about those "favorites" for me - usually a good pair of dark wash or black jeans, tee shirt and a great jacket.
What made you want to create a sneaker?For men, I think their shoes are really a personality and statement piece to showcase their style. And it's wonderful to work with a team that believes in the handicraft behind the work. Creativity in all industries is something I always crave.
How is the Dominique Ansel x Koio sneaker a reflection of your story?We used the basic building blocks for croissant - flour, butter, sugar, etc. - as inspiration for the colors and textures of the panel fabrics to build the shoe itself. This idea of each component coming together perfectly to finish the product - that's the story behind all great crafts from cooking to fashion.
What is your favorite city in the world?My home is New York, my memories are in Paris. Paris is where I learned a lot of my pastry training and foundations, where I was hired at Fauchon as a young pastry cook, one of 30 seasonal workers they brought on for the holidays - they told us as the end of the season, they could only keep 1 person, and they kept me. I spent 8 years there, learning from my chefs and eventually leading their international expansion. It's a city that holds so many memories. And New York - it's my home. I've lived here about 14 years, so I think I can say that I'm an official New Yorker. It was always a dream of mine to one day work here. It's where I opened something of my own, our shop on Spring Street with just 4 employees. And it's where I met the person I love the most.
What is your favorite restaurant? Favorite dish?There's one beef noodle place in Taiwan that I can eat at forever. Some of my other favorites include the Berkshire pork katsu sando at Hi-Collar in the East Village. There's something so simple about it, one key ingredient done well with good bread, with bulldog sauce, and pickles and potato salad on the side. A bowl of cacio e pepe and the Cornish hen at I Sodi in the West Village. The kedgeree and tea at The Wolseley in London, for when you want that classic old-school British experience. Pan con Tomate at Barrafina in London, something I never miss when I'm across the pond. Sushi omakase at Shunji or Korean food at Sun Non Dang in LA.
What is your favorite book and why?I like to read non-fiction books and learn the story of different people's lives and their thoughts. Recently I've been reading a book by astronaut Chris Hadfield, "An Astronaut's Guide to Life on Earth." It's incredibly fascinating that an astronaut trains and learns for 10, 15, 20 years, all to spend just 10 minutes in space. It's all about preparedness - knowing everything that can go wrong and what to do if there's the off-chance something does. When you're an astronaut, and you're up in space alone, all you can rely on is those years and years of training and preparation. And in many ways, the same applies to my training as a chef. Any chef can follow a recipe and replicate it over and over again, but if something goes wrong, do you know how to fix it? That makes all the difference.
Who do you find most inspiring (can be a figure in your field or another field) and why?I find inspiration in a lot of the guests that walk through our doors. Being a bakery, you're always a part of someone's special occasion and celebrating something. I've met a lot of people whom have accomplished great things worthy of a piece of cake to celebrate.
Interview by: Katrina Leo