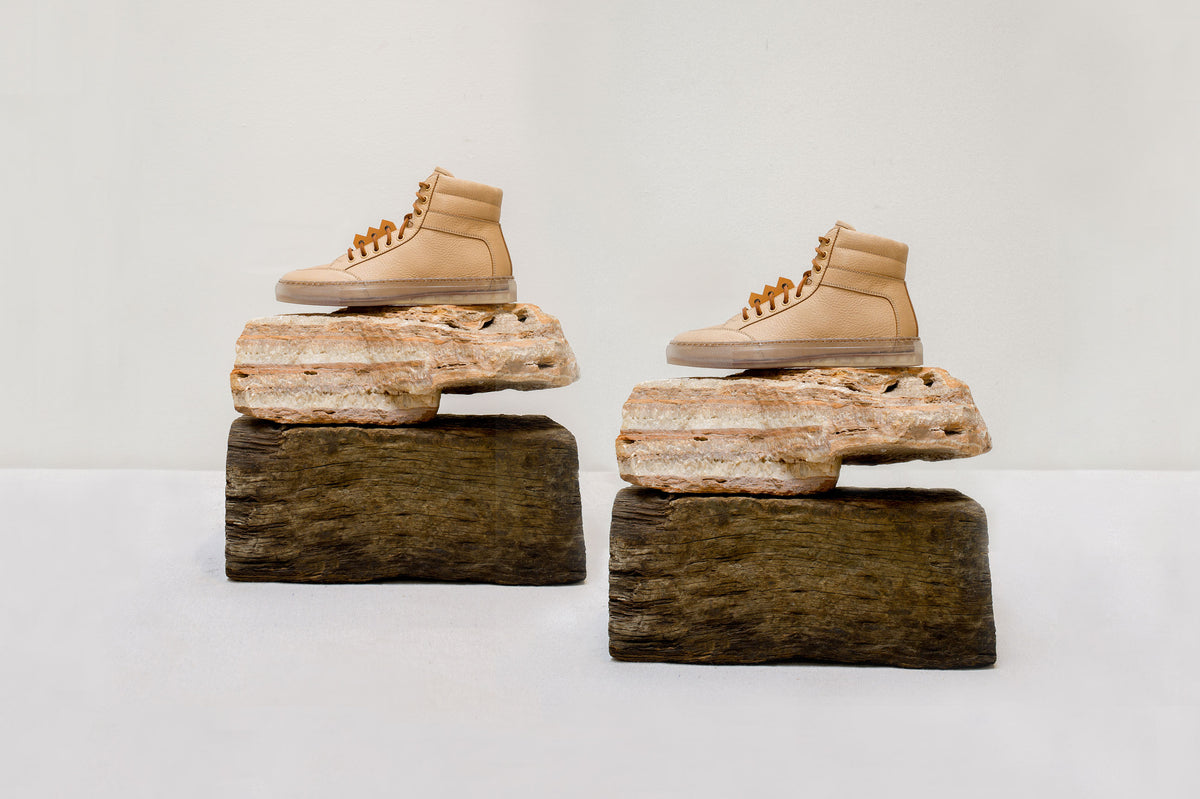 Koio x Bradley Duncan
COLLABORATION
The ancient world meets its modern match in our latest sneaker collaboration with L.A.-based sculpture artist Bradley Duncan.

Renowned for simplified geometric forms created using organic materials (wood, stone, and metal) and natural colors, Bradley's refined expressions demonstrate the enormous strength of both minimalist tradition and time-honored craftsmanship.

Integrating into designs the shadows and light of any given landscape, Bradley's work constantly adapts to the world around it in a different yet relevant way. A concept we wholeheartedly relate to.
We sat down for a conversation with Bradley Duncan to see what inspires him. 
YOU INFUSE SO MANY NATURAL ELEMENTS AND LANDSCAPES INTO YOUR SCULPTURES, WHAT FIRST INSPIRED THIS?
Growing up landscaping with my father had me connecting with nature and sculpting the land from an early age. Tasks like cutting grass into linear patterns, sculpting hedges, and making systems to chop and stack wood continue to inform my art practice.
WHAT/WHERE ARE SOME OF YOUR FAVORITE LANDSCAPES?
Trona Pinnacles, California - over 500 spires rise from the Searles Dry Lake basin creating an otherworldly vibe. Bryce Canyon, Utah - amphitheaters full of geological structures called hoodoos are my favorite formations. Crater Lake, Oregon - A caldera formed by the collapse of a volcano is now the deepest blue freshwater lake.     
       
YOU'VE MENTIONED THAT YOU'RE ALSO INSPIRED BY THE "SHAKER" COMMUNITY IN YOUR HOME STATE OF OHIO. WHAT IS THIS EXACTLY?
Shaker communities are known for their simplified living style. I am drawn to their architecture, furniture, and patterning. Their ideals of work and order influence the foundations of my art. Their dedication to their craft is itself a form of prayer.  My first body of work as a studio artist, Peg Work, was derived from their Peg Rail system.
YOU CREATED A NEW PIECE TO BE INCLUDED WITH EVERY KOIO x BRADLEY DUNCAN SNEAKER, INSPIRED BY YOUR EXHIBITION, WAVEFORM. WHAT DOES WAVEFORM MEAN TO YOU?
Waveforms exist all around us, at all times. They take shape in sound, light, air, and vibration.  Although they are not tangible, they can be graphed. WAVEFORM sculptures have sine, square, triangle, or sawtooth waveform patterns carved out of them. Once they are cut and connected they present themselves as tree towers, sun stumps and Earth Altars.  They signifying air, plants, stone, and water.
WHY DID YOU FEEL THIS EXHIBITION COULD BE TRANSLATED TO A SNEAKER DESIGN?
Like my wooden WAVEFORM sculptures, the KOIO x Bradley Duncan sneaker is raw and pared-down. The leather is natural, the sole is clear.  Elements are reduced to simplicity. By adding the carved triangle Waveform through the lacing of the shoe we were able to integrate sculpture into every pair.
HOW DID THIS SNEAKER DESIGN PROCESS COMPARE TO YOUR SCULPTURE PROCESS? DID ANYTHING TRANSLATE OR DID YOU HAVE TO START COMPLETELY FROM SCRATCH?
I approached the shoe design process the same way I start most of our studio projects, with a vision. The vision for the shoe collaboration was illustrated through a collection of images I have taken over the past few years. Images ranged from my finished sculptures to natural phenomena. KOIO translated and then we fine-tuned the details.
WHAT DESIGN ELEMENT IN THIS SNEAKER IS YOUR FAVORITE, WHY?
The clear rubber sole is my favorite element of the sneaker. It reveals the construction of the shoe and lets light pass through. 
WHAT EVENT ARE YOU MOST EXCITED TO WEAR YOUR SNEAKERS TO AND HOW WILL YOU STYLE THEM?
I'm excited to wear my WAVEFORM sneakers to the launch party at the KOIO store in Venice on Abbot Kinny. Im going to keep going with the neutral theme and wear everything I own that is beige. 
WHERE CAN WE SEE YOUR WORK IN-PERSON?
The Virgin Hotel in Dallas. El Centro & Columbia Square in Hollywood & The Proper Hotel in Santa Monica. If you are in LA, come visit the studio located in East Hollywood!  Get invites to exhibitions by signing up on our mailing list at www.bradleyduncan.com.
Photography: Sean Hazen