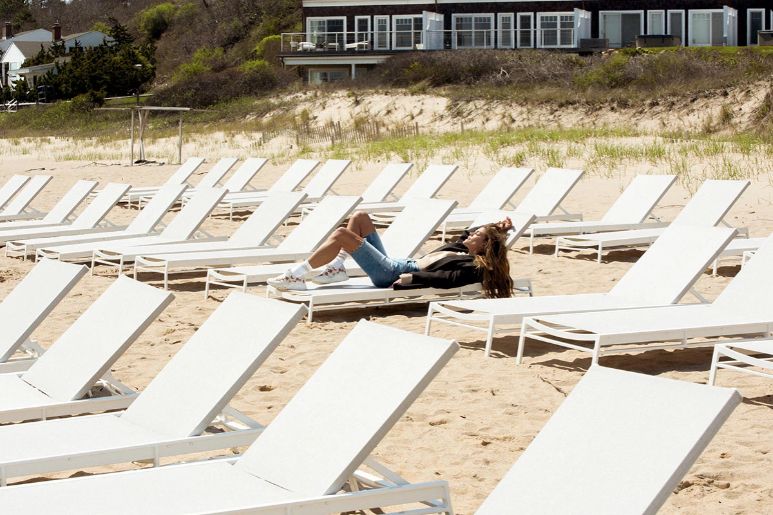 Koio x Nina Agdal
Pre-Orders Only
Available May 23rd to June 14th

From gracing the cover of the 50th anniversary issue of Sports Illustrated Swimsuit Issue to walking the catwalk for Victoria's Secret, Nina Agdal is a force to be reckoned with in the modeling world. Stunning both inside and out, the 27-year-old model has made sure to stay true to herself throughout her career - celebrating her athletic figure, opening up about her anxiety and more than anything, always emphasizing the importance of kindness.
We sat down with Nina ahead of the launch of her limited-edition Koio x Nina Agdal sneaker to discuss her personal style, sneaker collection and love for the Hamptons. In the below interview, we offer an authentic glimpse into who Nina is, how she got there and her favorite Hamptons haunts.
How did you get into modeling and what is the biggest risk you've taken in your career?


I got scouted back in Denmark by Elite Model Management and entered their annual competition called Elite Model Look. I didn't win but ended up signing on with them anyways. At age 18, I flew to Miami to try modeling full time and it ended up working out! I was only supposed to go for 4 months to begin with. The biggest risk was obviously leaving everything and everyone I knew back home in Denmark and moving to the states. Besides that I think the biggest risk I've taken in my career so far is saying no to "big" people if something didn't feel right. It's always a risk because later on those people can resent that and reject you, but i think it's imperative to always follow your gut!
What are some of your daily habits that you feel contribute to your success?


I think being nice and kind, but also professional and on time are four incredibly important factors when it comes to work. Being nice goes such a long way and I only work with people who treat me with the same respect that I treat them. Being on time is crucial too and if you're late, make sure to notify people. It's one of my biggest pet peeves when people don't communicate that they're late, so I always make sure to try and be on time or early. 
What made you want to create a sneaker? And why now?


I have ALWAYS been a sneaker girl. I grew up being very active and couldn't sit still. I'd play sports in all the breaks during school and would go straight to dance or basketball practice after school, so I always wore sneakers. My sneaker closet, even today, is out of control. There's such a sneaker moment happening right now, which i LOVE because you can actually wear sneakers to parties while dressed up and its fashionable and you're comfortable, WIN WIN! Koio was the perfect brand to do it with!
Describe your personal style. How is it reflected in your Koio x Nina Agdal sneaker and what's the inspiration behind the design?


My style is kind of all over the place. When we created the moodboard I sent over literally everything I liked, which was a mix between super feminine and girly stuff - think colors and florals - and more edgy and a sporty looks. And that is me! Some days I like to be wearing a flowy floral dress and other days I wake up and want to wear baggy jeans and an oversized hoodie or blazer for a more masculine look. Both looks work with sneakers and the design of this sneaker represents that to me - this balance of athletic edge and femininity.
How would you recommend styling the shoe?
With the beautiful print and the chunkiness of the sneaker, you can pretty much style them however you want! I'd wear them with jeans or jean shorts and a white tee, or you can do a summery dress. Even a long flowy dress would look so nice, or a suit. I just want people to have fun with it!
You're launching your sneaker with an event at The Surf Lodge in Montauk. Why are the Hamptons a special place to you and why do you feel it's suiting to release the sneaker out there?
 
My boyfriend is from the Hamptons, so I've spent a lot of time out there over the past two years, and I love it! It's so lovely and peaceful both in the summer and winter. Summers get so busy and everyone comes out for a getaway from the city, so it's basically Manhattan but in the middle of nature and on the beach, and of course, at Surflodge! Everyone goes to Surflodge and I love how it feels like a family there. Every time we go we have the best time and some of my best memories are from there so i figured we should launch this exciting collaboration there! Full circle.
We'd love to offer our readers insight into some of your favorite spots and things to do in the Hamptons:


Favorite breakfast:
I don't really eat breakfast but I'd make my own avocado toast or go to Topping Rose for their lemon ricotta pancakes!
Best coffee:
Hamptons coffee is great but gets very busy, or Tate's Cookies Cafe make great coffee too!
Casual lunch (and favorite dish or menu item):
Pierre's or Provisions - Pierre's is sit down and I'd get the caesar salad and or the chicken curry soup. Provisions is more of a grab and go spot and everything is healthy! I'd get one of their salads or soups, or the tuna melt.
Favorite beach:
It's a secret spot (probably not really though), but it's on the way to Montauk! Gurneys for a beach party!
Best place to watch the sunset:
MONTAUKET! Or Surf Lodge!
Favorite boutique:
Deep Blue Vintage at Montauket. Christina has the BEST vintage finds.
Incredible date night restaurant:
The American Hotel during bay scallop season by the fire, in the summer lunch at Duryeas in Montauk, or on a weekday Dopo in Sag Harbor.
Where to go for a fun night out:
Start at Bridgehampton Inn bar for the best cocktail of your life with Kyle! Then go to Tutto Il Giorno Sag Harbor on the weekends - you have dinner and then it turns into a dance party!
Anything else you'd like to share?
SO EXCITED FOR YOU GUYS TO WEAR MY SNEAKER! And thank you to the entire Koio team for making this sneaker dream come true!
Photography & Art Direction by: Miguel Yatco
Make-Up by: Mari Shten
Styling by: Jamie Frankel
Hair by: Adam Maclay
Interview & Production by: Katrina Leo